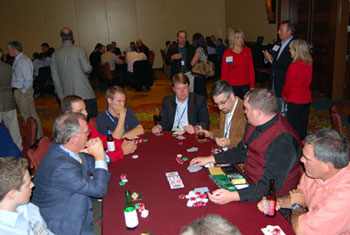 Texas Hold'em Tournaments, Poker Tournaments, Charity Poker tournaments;  call them what you will; each will bring the excitement of the World Series of Poker to your event.
Texas Hold'em in particular has become the number one poker game in the world.  It is seen on TV every night and millions of people play online.
The popularity of Texas Hold'em is contagious, and the uses of a poker tournament are endless whether Just For Fun or for Fundraising:
Charity Poker Tournaments-Raise money for your charity with a Texas Hold'em Tournament Fundraiser.

Team Building-Let the games begin. Who will be the winner of Bragging rights.

Client Appreciation-Thank your clients for their business and have them bring a friend(potential client) and let the fun begin.

Birthday parties-It's a Texas Roundup, gather family and friends and let the turn of the cards do the talking.
Texas Hold'em tournaments can be run as strictly as you want or can be done in a  more relaxed atmosphere depending on your needs.  You can have your guest pick a seat assignment card for a more structured tournament or allow them to seat themselves and be more informal.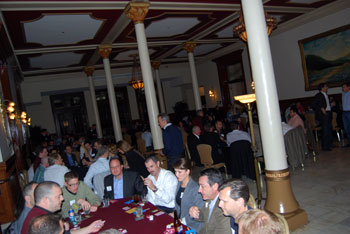 Our Tournament Director will customize the amounts and the timing for the blinds based on the starting chip count, number of players, and the length of the event.  All of this is done with your guidance.  Once all players are seated the Director will have the dealers "Shuffle Up And Deal".  Texas Hold'em combines the challenges of skill, luck, and the psychology with the drama of the 
Bluff.
If you're considering a poker tournament for your fundraiser, our tournament specialist will help with preliminary planning, promotion, table sponsors, ideas for re-buys, and many other suggestions to help you reach your fundraising goals.
Our poker tournament dealers are highly trained and experienced professionals who know the rules, and can handle all aspects of the game.  From the new player(easy money) to the experienced pro, all will receive the attention and respect they deserve.